I doubt that many people living on/by Westgate, or walking up and down the street, know that we have our very own War Memorial commemorating the Fallen of the Parish of St Bartholomew.
Between 2014 and 2018 the nation remembered the First World War and commemorated the sacrifice of so many young men's lives. Several organisations financed various very moving activities across the country and on the 19th December 2013, David Cameron announced that there would be £5M made available to conserve, repair and protect First World War memorials and burial sites. He said:
It is absolutely right that we help communities up and down the country to ensure that their local war memorials are a fitting tribute to the fallen and increase people's understanding of what happened. We simply should not tolerate damaged war graves in our country. Our memorials and cemeteries must be places of respect and education. This funding will help make it happen, and I am proud to be able to announce it today.
Rather imaginatively, the government used fines paid by banks who had attempted to manipulate the LIBOR rate to provide this funding. The Department for Culture, Media and Sport (DCMS) worked with key partners to make grants available to communities  – including the Commonwealth War Graves Commission, War Memorials Trust, English Heritage, the Wolfson Foundation and others.
The Chichester Society took charge of these activities in Chichester and our own War Memorial was duly restored. It is a very unusual object, painted on wood and placed in the alcove to the left of the doorway to St Bartholomew's Church.
Who were these men?
It was in very bad shape as you can see from this image: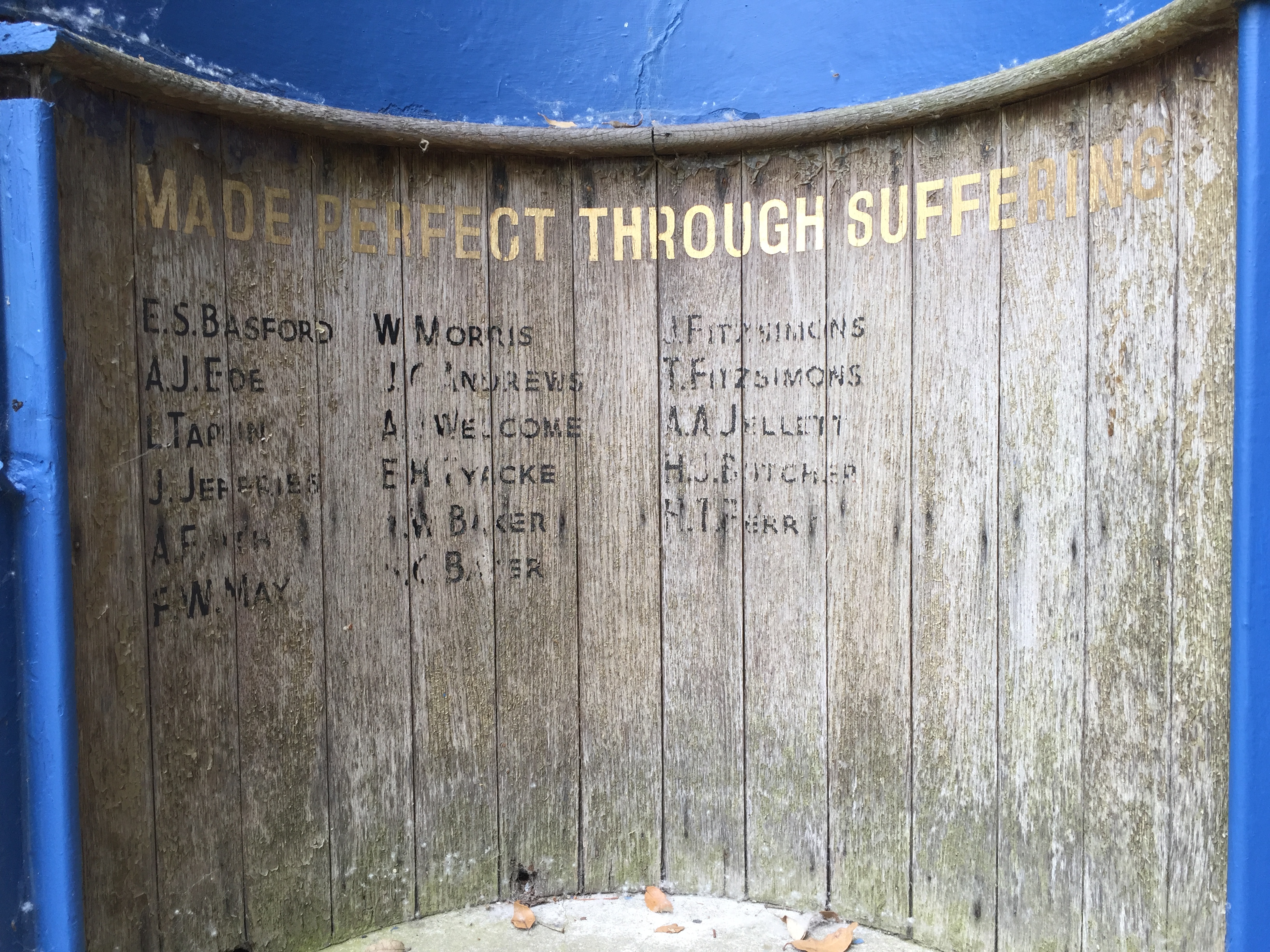 but one could just make out the names of the men who are commemorated.
The Memorial is entitled in gold lettering: MADE PERFECT THROUGH SUFFERING and the names of the men follow. Some are very difficult to make out but, with one lingering query, this can now be confirmed as the correct list:
F S Basford – centenary remembrance 28th September 2016 (researched)
A J Ede – centenary remembrance 4th November 2017 (researched)
L Taplin – centenary remembrance 1st June 2016 (researched)
J Jeffries – centenary remembrance 15th July 2017 (researched)
A Faith – centenary remembrance 20th December 2016 (researched)
F W May – centenary remembrance 31st May 2016 (researched)
W Morris – centenary remembrance 9th May 2015 (little is known)
J C Andrews (nothing found, researches inconclusive)
A J Welcome – centenary remembrance 9th June 2017 (researched)
E H Tyacke – centenary remembrance 29th May 2018 (researched)
A W Baker – centenary remembrance 30th June 2018 (researched)
S C Baker – centenary remembrance 6th November 2017 (researched)
J Fitzsimmons – centenary remembrance 11th November 2017 (researched)
T Fitzsimmons – centenary remembrance 4th April 2016 (researched)
A A Jellett – centenary remembrance 28th October 2018 (researched)
H J Butcher – centenary remembrance 22nd March 2018 (researched)
H T Perry – Second World War casualty
In this centenary period our memorial commemorates 17 dead, including two sets of brothers and two lieutenants.
Their name liveth for evermore?
Up and down the land between 2014 and 2018, communities worked to remember these men, on the basis that if their name is to "live for evermore", then we must speak their name during the centenary.
Frustratingly there are no dates attached to the names on our memorial so identification has been difficult. Nor, for some reason, are the names in either alphabetical or date of death order, which also makes research more challenging. Given the empty space remaining to the right of the memorial board, it looks as though yet more deaths were expected, which happily did not materialise. Thanks to the Roll of Honour for Chichester I have managed to identify all but one of the men listed on our War Memorial. There is more detail that can be found about each one from the First War, and so these biographies have been completed, sometimes even corrected. All these entries have now been marked as researched which  gives us a real insight into the lives behind these fading names.
First of all, thanks the diligence of the Chichester Society whose Secretary lives on our street, the memorial has been restored and now looks like this!
A preliminary note about the War Medals
There were five campaign medals available for individuals from the lower ranks who saw service in the First World War. You will notice in the citations that follow, that most of our dead heroes were awarded the British War Medal and the Victory Medal. A few also received the Star. These medals were in fact only issued after hostilities ceased in 1919, and to all combative personnel. Therefore in all our cases these would have been awarded posthumously. An individual, male or female, could be issued with a maximum of all three of these medals, although there are a small number of exceptions to the rule and the Star could not be awarded if the Victory had not been awarded also.
The silver or bronze British War Medal medal was awarded to officers and men of the British and Imperial Forces who either entered a theatre of war or entered service overseas between 5th August 1914 and 11th November 1918 inclusive. Approximately 6.5 million of these were issued, mostly the silver versions of this medal.
Some 5.7 million bronze Victory Medals were issued. Interestingly, eligibility for this medal was more restrictive and not everyone who received the British War Medal also received the Victory Medal. Conversely, all recipients of the Victory Medal also received the British War Medal, and all recipients of the Star Medal received both the Victory and British War Medals. Officers however were expected to apply and pay for theirs.
The lost men
E S Basford is in fact BASFORD, Frederick Samuel 1897-1916
Fred Basford was Private no G.24514 in the 7th Battalion of the Queen's Royal West Surrey Regiment, 18th Division. He was formerly Private 9784 with the Royal Sussex Regiment. Awarded British War Medal and Victory Medal.
Killed in action during the infamous Battle of the Somme in Flanders, on the last day of either the Morval or Thiepval 3-day long battles, 28.9.16 aged 19. Son of John & Ellen Mary Basford of 51 Westgate (new no. 8 and now demolished to make way for the Ave de Chartres). Enlisted in Chichester.
Born Chichester, second quarter 1897. At the 1901 Census, aged 4, Fred was living at no 28 Chapel Street in the parish of St Peter the Great (a medieval church demolished in the 50s and now somewhere underneath Lakeland on North Street). His father, 36, was a groom and hailed from Manchester, his mother (33) was from Chichester. A stone cutter from Lambeth was also visiting that day.
At the 1911 Census, now aged 14, he had become an apprentice carpenter. His father was by now a Bricklayer Labourer – a fall from grace? He is now the eldest child with two sisters and a brother. His great aunt and two boarders, a father and son from Surrey, were also living in the house.
Included on St. Bartholomew's Church Westgate War Memorial.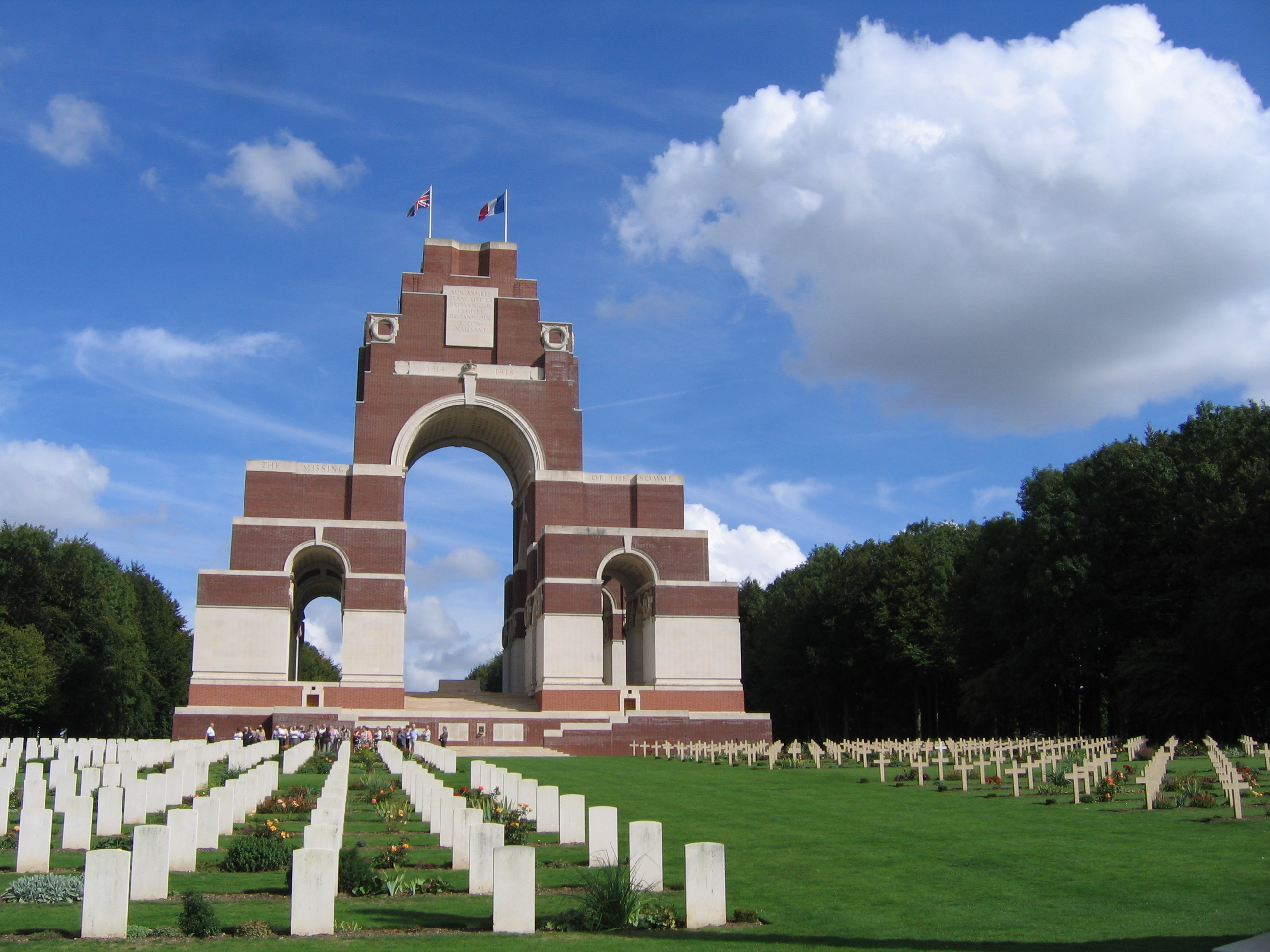 Commemorated on The Thiepval Memorial, the huge arch designed by Lutyens in the 20s and recently restored for the centenary. That means his body was never found: such was the intensity of daily bombardments, the bodies of some 72,000 personnel were pounded to nothing and so are recorded on the Thiepval Memorial as having "no known grave". Without a body to bury, a war gratuity of £1.6s.3d was awarded to Fred's father John on 31st January 1918 but not actually paid until 17th June 1919. This sum appears on a list of his personal effects so perhaps the gratuity was residual soldier's pay rather than compensation… (return to roll)
A J Ede is registered in the war record as EADE, Arthur John, 1894-1917
Private TF.200121 1/4th Battalion, The Royal Sussex Regiment 53rd Division. Entered the Balkan theatre of war on 8.8.15, awarded the Victory and Star medals. Died of wounds in action at the Third Battle of Gaza 4.11.17, aged 23. Born in Bury, West Sussex and enlisted in Chichester. Son of Henry & Mrs Eade of 164, Orchard Street, Chichester to whom effects to the value of £26.13s.5d. were released on 15.4.18; 10s. 3d. released on 28.8.18 and a War Gratuity of £14.10s paid 13.11.19. St. Bartholomews, Westgate Memorial. Buried in the Beersheba War Cemetery, Palestine. Beersheba is a southern town on the edge of the Negev Desert, 75 kilometres south-west of Jerusalem and the Cemetery is situated on the south-west of Beersheba town in HaDarom (Southern District).
By October 1917, General Allenby's force had been entrenched in front of a strong Turkish position along the Gaza-Beersheba road for some months, but they were now ready to launch an attack with Beersheba as its first objective. On 31 October, the attack was carried out by the XXth Corps (10th, 53rd where Arthur Eade was, 60th and 74th Divisions) on the west, and the Desert Mounted Corps on the east. That evening the 4th Australian Light Horse Brigade charged over the Turkish trenches into the town.
The cemetery was created immediately on the fall of the town, remaining in use until July 1918, by which time 139 burials had been made. It was greatly increased after the Armistice when burials were brought in from a number of scattered sites and small burial grounds. The cemetery now contains 1,241 Commonwealth burials of the First World War, 67 of them still unidentified. (return to roll)
L Taplin is TAPLIN, Leonard 1893-1916
Private G.5 2nd Battalion, The Royal Sussex Regiment. 1st Division. The war record contains his original hand-written short service recruitment form. Born in Oving and enlisted in Chichester. He says he lives in Oving with his father and describes himself as a cooper's apprentice at the Geo Henty Brewery on Westgate. He takes his oath as a recruit on 8.8.14 after having received his call-up papers. Entered the France theatre of war on 31.5.15. Awarded the British War and Victory Medals. Killed in action near Maroc 1. 6.16. Next of kin, Chichester. St. Bartholomews, Westgate Memorial.
Buried in plot 1 row F of the Maroc British Cemetery at Grenay, where he shares a grave with Pte G Brown of the same regiment.
The Maroc Cemetery is not in Morocco as the name might suggest but near Béthune in the coalfields of the Pas de Calais and which contains some 1350 of the war dead. You can read more about it here. (return to roll)
J Jeffries, registered in the war record as JEFFERIES, James 1883-1917
Private GS/37573 2nd Battalion, The Royal Fusiliers. 29th Division. Awarded the British War and Victory Medals. Killed in action 15. 7.17. Born in Lavant and enlisted in Chichester. At the 1891 census he is registered as living with his family at no 30 Ashling Road Funtington, aged 8. His father was a domestic gardener. By 1911, a resident of Chichester living with his wife Sarah at no 52 (new no. 10) Westgate and employed as a Hopman at the Brewery. Fred Basford lived next door. No 52 was a house next door to the Swan pub (now the Crate & Apple), demolished in the sixties to make way for the Avenue de Chartres roundabout.
Buried in Bard Cottage Cemetery, Ypres, Belgium but memorialised on his wife Sarah's gravestone, plot 15 in the churchyard of St James' Church in Birdham. The inscription reads: "Our dear mother SARAH widow of JAMES JEFFERIES fell asleep 25th April 1936 aged 54 years. Also of JAMES JEFFERIES killed in action 15th July 1917 aged 35 years." (return to roll)
A Faith is FAITH, Alfred 1882-1916
Private 27650 1st Battalion, The Devonshire Regiment, 5th Division. Awarded the British War and Victory Medals. Killed in action 20.12.16 Aged 34. Born in Lambeth and enlisted in Chichester. In 1891 living in 115 East St Lambeth, son of Louisa & William Faith. His mother was deaf from birth and his father worked at Covent Garden as a porter. Still in Lambeth in 1901, his father has died and he is the eldest child living at home and working as a brewer's labourer. By 1911 he is married with three children living in the Guinness Buildings in Vauxhall. At some time between then and 1914 he must have moved to Chichester to work at the Geo. Henty Brewery on Westgate. The war record says that his family were from Chichester but I can find no evidence for this.
Buried among the 450 casualties (only 243 of whom have ever been identified) of the Rue-des-Berceaux Military Cemetery, Richebourg L'Avoué near Bethune in northern France. Cemetery recorded on the Royal Sussex Living History Group website. (return to roll)
F W May is MAY, Frederick William 1888-1916
Stoker Petty Officer 311767 Royal Navy H.M.S. "Black Prince", lost with his other 856 shipmates on the fateful Armoured Cruiser at The Battle of Jutland on 31.5.16, aged 29. "Body not recovered for burial".
Born on the 9th June 1888 in Hermitage, Southbourne, son of William and Emma Ruth May. On St. Bartholomews, Westgate Memorial but also Commemorated on The Portsmouth Naval Memorial, Southsea. In 1891 and 1901 we find him living at no 10 Slipper Hill in Westbourne with his parents and older brother. His father is a rope-maker. By 1911 he is a seaman, living in "lodgings" with many other ratings, at 16 Edinburgh Road, Landport in Portsmouth. The Portsmouth Naval Memorial entry records him as married to Florence Jane May, née Myall of no. 10 (now 23), Westgate, Chichester. They married in the summer of 1913 and he would be dead in less than three years. (return to roll)
W Morris is MORRIS, William C, d.1915
Private S.781 2nd Battalion, The Royal Sussex Regiment, 1st Division. Killed in action at Richebourg L'Avoue on 9.5.15 where Alfred Faith would die a year or so later. Reservist. Born St. Pauls, Chichester and enlisted in Chichester. Next of kin, Chichester. Named on both the St Bartholomews, Westgate and St. Pancras Memorials.
Commemorated on the Le Touret Memorial among 13,389 names of British and Commonwealth soldiers with no known grave who were killed in the area prior to the start of the Battle of Loos on 25th September 1915.
Little else is known about him. (return to roll)
J C Andrews is not on the Chichester First War roll of honour and has eluded our researches.
A J Welcome is WELCOME, Albert John 1889-1917
Private 49793 (sometimes recorded as 49703), 32nd Battalion, The London Regiment. Previously Private 22713 with the The Royal Fusiliers 41st Division. Died of wounds 9. 6.17. Born in Southwater, Chichester to William and Esther Welcome. Residing in Almodington in 1891 where his father was an agricultural labourer but living at 12 Orchard St by 1901. At age 22 he is still living with his parents at 50 Orchard St and working as a domestic gardener. He married Eleanor Butcher in Guildford in the Spring of 1914 but enlisted in Horsham. Awarded Victory and British War Medal. Included on Woking War Memorial and Parish Church. Buried in Lijssenthoek Military Cemetery, Belgium. His personal effects were returned to Mrs Eleanor Welcome of 8, Royal Oak Road, Woking, Surrey: £2.18s.6d on 14.10.17 with a further payment of £3.10s. 0d made on 21.10.19. (return to roll)
E H Tyacke is TYACKE, Edward Humphry 1897-1918
Lieutenant 25th Battalion, The Machine Gun Corps; a rare rank amongst those on our memorial but because of it, a lot more information is available than is the case with the lower orders. Formerly with The Royal Sussex. Killed in action on the Marne 29. 5.18 aged 21, "final resting place unknown", the same age as Fred Bamford (see above). Born in Chichester, the son of George Ashley and Alice Margaret Tyacke. The wider family hailed from Cornwall and were resident on Westgate already by 1861 where his grandfather was a doctor. They were living at Oaklands, College Lane in 1901 and by 1911 Edward is a boarder in Winchester. His father George is a solicitor living back at no 3 Westgate, the grandfather's family home, where George was brought up. Edward's army personal effects record shows three payments home of £7.7s.5d. in July 1918, £175.6s.0d. on 1.10.18, and £1.16s.0d. on 27.6.19. This last amount looks like his father chasing up a final payment before probate on 8 July 1919 when Edward's will leaves £748.1s.2d. to his father. Curiously, with his affairs in administration, a second amount of £319.3s.7d. is left to Guy Harold Howard Tripp, solicitor, with a note: "Former Grant PR July 1919". Any solicitors able to elucidate what went on there?
As well as being inscribed on the St. Bartholomew's Westgate Memorial, Lieut. Tyacke's name is commemorated on The Soissons Memorial. This lists 3,887 names of British soldiers with no known grave, not only killed but obliterated in the area during the Spring Offensive which ran from May to August 1918. (return to roll)
A W Baker is BAKER, Albert William 1880-1918
Private S.386, 7th Battalion, The Royal Sussex Regiment. 12th Division. Killed in action 30. 6.18, just a few months before the ending of hostilities, aged 38. Reservist, son of Mr & Mrs E.Baker of 158, Orchard Street, Chichester. The eldest child, he was born in St. Pauls Chichester. Aged 1, he lived at no 8 Orchard Terrace and his father was a fishmonger. By 1891 the family had moved along the street to no 22. In 1901 the family had moved to no 49 and he was no longer at home, perhaps in South Africa for the Boer War. He was a gardener when he enlisted at nearly 35 years of age in Guildford on 1st September 1914. He had previously been a volunteer in South Africa for the Royal Sussex. He was sent to France on the 24th July 1915. He received the British War, Victory and Star Medals. Named on the St. Bartholomews, Westgate War Memorial. A total of £25.15s.8d was paid to his mother Ellen between Sept 1918 and Dec 1919. Buried in the small Harponville Communal Cemetery Extension north of Contay towards Varennes, northern France.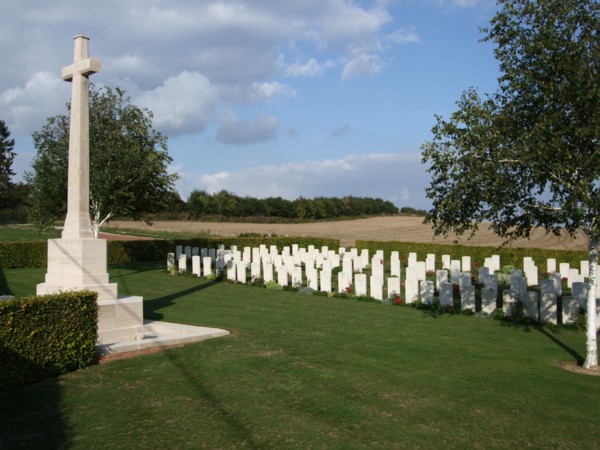 The Commonwealth graves at Harponville were made by fighting units during the German advance on the Somme in 1918. The Extension contains 138 First World War burials, dating from June, July and August 1918. (return to roll)
S C Baker is BAKER, Sefton Charman 1886-1917
Private TF.315261 16th Battalion, The Royal Sussex Regiment. 74th Division. Killed in action in Palestine at the Third Battle of Gaza 6.11.17. Aged 31, third son of Mr & Mrs E.Baker of 158, Orchard Street, Chichester and younger brother of the above. Born and enlisted in Chichester, a labourer at the Brewery. On the St. Bartholomews, Westgate War Memorial. A total of £9.18s. 4d. was sent to his father William between April 1918 and October 1919. Buried in the Beersheeba War Cemetery, Palestine; which is where Arthur Ede, his neighbour at no 162 also lies (see above), though he was in the 53rd Division. (return to roll)
J Fitzsimons is FITZSIMONS, John 1895-1917
Corporal 67805 11th Battalion, The Royal Fusiliers, 18th Division. Killed in action aged 22 near Ypres 11.11.17. Born in Melton Mowbray, Leics, and enlisted in Walton. Next of kin Chichester, brother of Terence below who had been killed 15 months earlier. The family lived at 50 (old number) Westgate. His father was Irish and in 1911 was the local Supervisor of Customs and Excise. John had just left school. On the St. Bartholomew's Westgate Memorial and commemorated on The Tyne Cot Memorial at Zonnebeke, West Flanders (West-Vlaanderen), Belgium. (return to roll)
T Fitzsimons is FITZSIMONS, Terence 1896-1916
Private Hampshire Regiment 1440 then Second Lieutenant 'C' Company 7th Battalion, The Royal Sussex Regiment, 12th Division. Westgate's other lieutenant. Younger brother of the above, also born in Melton Mowbray and living at no 50 Westgate. Missing in action aged 20 near Loos 4.4.16. On the St. Bartholomew's Westgate Memorial and commemorated on The Loos Memorial, panel 69-73. Yet another man blown to bits, the Loos Memorial commemorates over 20,000 officers and men who have no known grave, who fell in the area from the River Lys to the old southern boundary of the First Army, east and west of Grenay. On either side of the cemetery is a wall 15 feet high, to which are fixed tablets on which are carved the names of those commemorated.
The Loos Memorial forms the sides and back of Dud Corner Cemetery. Loos-en-Gohelle is a village 5 kilometres north-west of Lens, Pas de Calais. Dud Corner Cemetery stands almost on the site of a German strong point, the Lens Road Redoubt, captured by the 15th (Scottish) Division on the first day of the battle. (The name "Dud Corner" is believed to be due to the large number of unexploded enemy shells found in the neighbourhood after the Armistice.) The memorial was designed by Sir Herbert Baker with sculpture by Charles Wheeler and unveiled by Sir Nevil Macready on 4 August 1930. (return to roll)
A A Jellett is JELLETT, Alexander Ambrose 1888-1918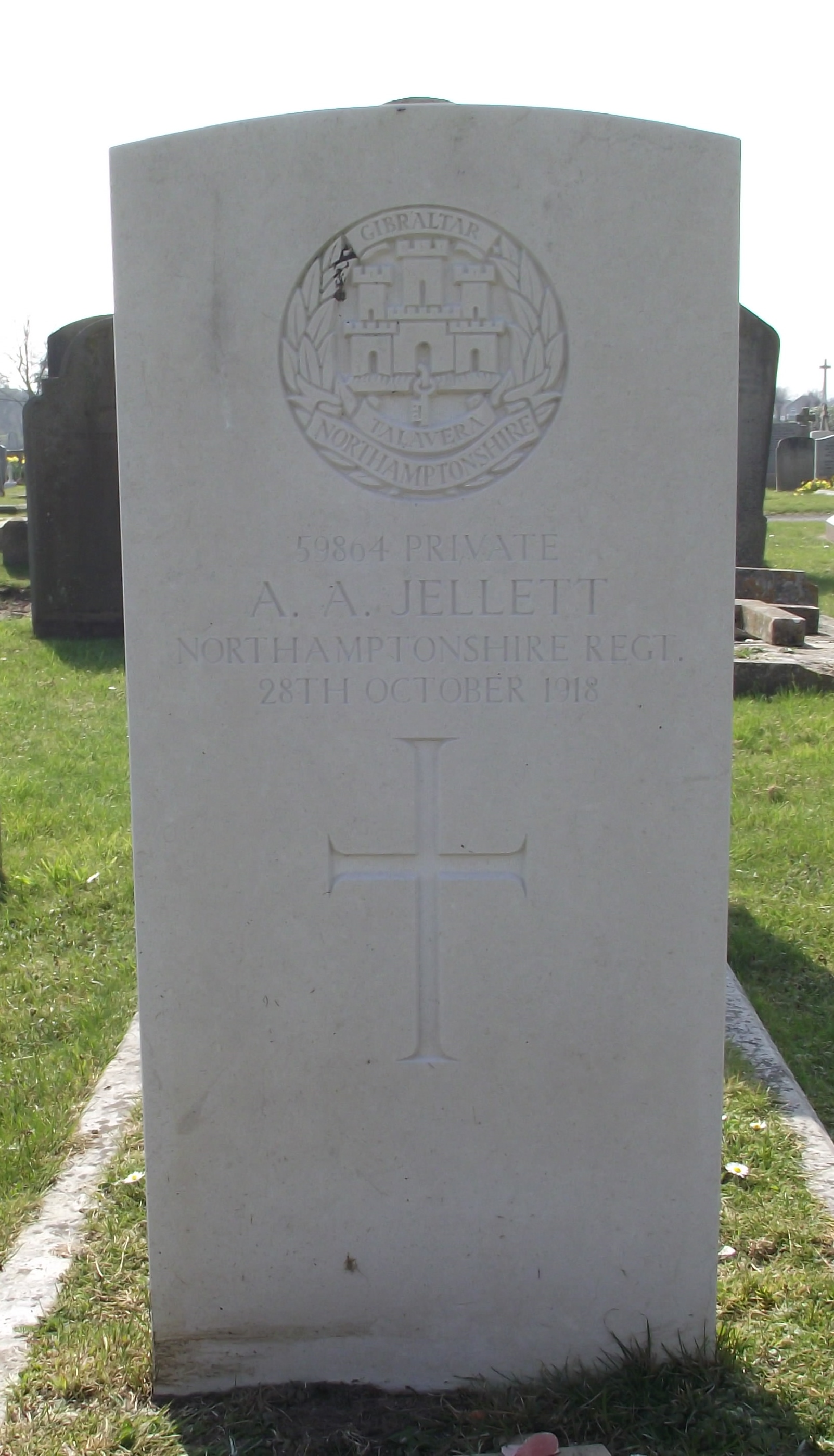 Private 59864 3rd Battalion, The Northamptonshire Regiment. He died in the Chichester Military Hospital (at Graylingwell?) aged 30, on 28.10.18, presumably of his wounds. His wife received £1.19s.7d. Alexander's  battalion would have seen action at Gallipoli in 1915 before going into the theatre of war in Egypt and then Palestine from 1917 to 1918 where presumably he was badly injured. Born and enlisted in Chichester. His father was a farm labourer from Sidlesham, his mother from Cocking. In 1911 the family were living at 12 Adelaide Road and Alexander was working as a grocery warehouseman. He married May Brewer in Westhampnett on the eve of war. On the St. Bartholomews, Westgate Memorial. Buried in a marked war grave in Chichester Cemetery. (return to roll)
H J Butcher is BUTCHER, Henry Joseph 1892-1918
Private G.6597 13th Battalion, The Royal Sussex Regiment, 39th Division. Killed in action "on or since" the 22.3.18 as part of the BEF (British Expeditionary Force, Western European Theatre) during the March retreat. Aged 26.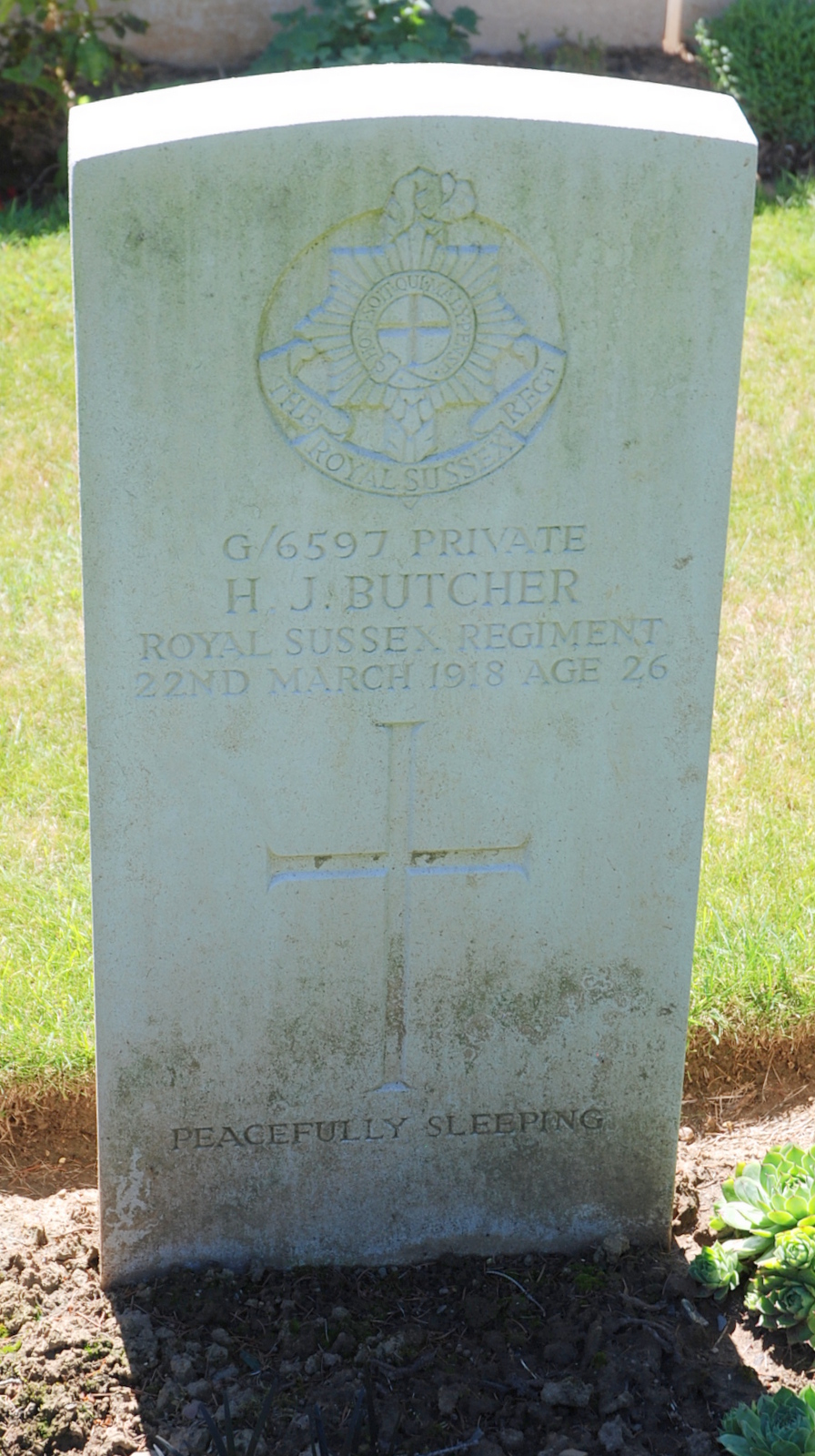 Son of Henry and Elizabeth Butcher of 18 Orchard Street, Chichester. His father hailed from Ashford in Kent and after a spell as a bricklayer worked for the Chichester Corporation Sewage Works. At 16 Henry was a collector for the Chichester Gas Company. Husband of Mrs Nellie Butcher (remarried) later of Barnsley, Yorks and father of Reginald, born on the 8th December 1917. Nellie received £30.17s.3d. in August and October 1919. Henry was born in Hove and enlisted in Bexhill. Awarded the British and Victory Medals as was usual. On the St. Bartholomews, Westgate War Memorial.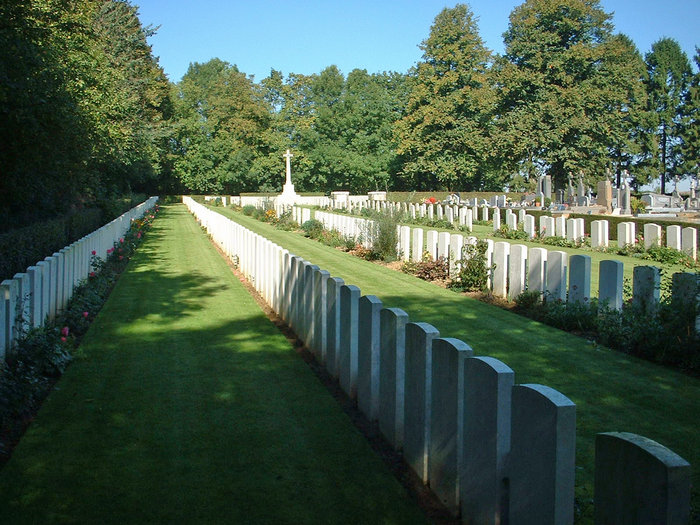 Buried in Villers-Faucon Communal Cemetery Extension in the Somme, Picardy France. Villers-Faucon was captured by the 5th Cavalry Division on 27 March 1917; lost on 22 March 1918, the day Henry was killed in the retreat; and retaken by the III Corps on 7 September 1918. The extension contains 459 Commonwealth burials and commemorations of the First World War. 144 of the burials are unidentified but there are special memorials to six casualties believed to be buried among them. The extension also contains 66 German graves, 33 being unidentified.  (return to roll)
H T Perry is not actually on the 14-18 Chichester roll of honour
As his name is the last on the board, could he be the parish's only casualty from the Second World War? There is a Herbert Thomas Perry, Stoker 2nd Class, RN, service no P/KX 115008 – who died 02.05.1941 and whose name figures on the HMS Nelson Portsmouth Naval Memorial. (return to roll)
Find out more
If you would like to do some research for this page, then the UK National Archives hold a range of records related to those who lived during the First World War. Click here to find out what they have and how to access them. The Commonwealth War Graves Commission has a casualty database which lists the names and place of commemoration of the 1.7 million men and women of the Commonwealth forces who died during the two world wars. You can also find more about the cemeteries mentioned in the above citations.