You may not know that Centurion Way is going to be converted into a so-called country path as part of the Whitehouse Farm development. This is a 5.5 mile (9km) walking and cycling route for Chichester to West Dean that follows the track of the old Chichester to Midhurst railway. This was opened in 1881 to improve access to London.
The line included 3 tunnels and 8 stations, the most notable being Singleton due to its proximity to Goodwood Racecourse. The railway's decline started with the withdrawal of passenger services in 1935 and the line north of Lavant was closed completely in 1957. The section between Lavant and Chichester was used for the transportation of sugar beet and gravel.
However, this ceased in 1991 and the tracks were removed in 1993.
In 1994 West Sussex County Council purchased the disused line south of Hunters Race Lane and commissioned a feasibility study by Sustrans. Funding for the project also came from English Partnerships, Chichester District Council, (who donated their section of track bed north of Hunters Race Lane) and Tarmac Quarry Products Limited (who provided additional land to enhance the scheme and gravel from their Lavant Pit as a base for the path).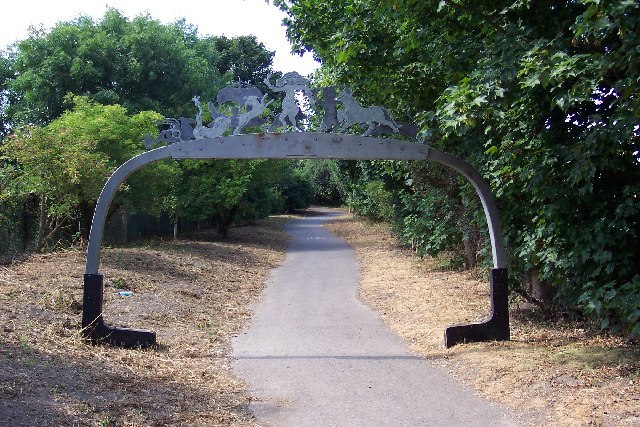 The name Centurion Way was suggested by a local schoolboy and is based on the fact that the path crosses the course of a Roman road. Sculptures relating to aspects of local history were provided as points of interest in association with the South East Arts Board. At its northern end the completed path leads into a network of quiet roads and bridleways leading on towards the South Downs Way. At its southern end, the path joins the South Coast Cycle Route in Chichester (Route 2 of the National Cycle Network).
This initial section of Centurion Way south of Lavant was opened in September 1995. 
Sustrans – the sustainable transport charity – works on practical projects to encourage people to walk, cycle and use public transport in order to reduce motor traffic and its adverse effects. Sustrans' flagship project is the National Cycle Network, creating 10,000 miles of routes throughout the UK. 
In October 2000, Sustrans completed a second study into the path, investigating a possible extension northwards to connect with West Dean, Singleton and the South Downs Way. This time this study was carried out in conjunction with Sussex Downs Conservation Board as well as the County and District Councils. 
The section between Binderton (access point 9) and West Dean (access point 10) was completed in 2001, and provided a route alongside the A286 Chichester to Midhurst road. Work started on the remaining section between Lavant and Binderton in April 2002, and was finished in October of that year. A further stretch up to West Dean tunnel was opened last year by the South National Park.
The aims of the path are to promote cycling and walking as healthy and environmentally friendly forms of transport, provide an alternative 'traffic-free' route between Chichester and the Downland villages for commuting and leisure purposes and an excellent training ground for young or inexperienced cyclists.
WGRA Committee member Julia Smith has informed us that Ian Smith, who is Chair of the CDCF and no relative, is pleased to report that CDC's Green Spaces Officer, Justin Jones, has come to the rescue and has offered a room at CDC's Depot in Stane Street, Westhampnett for a meeting to discuss the future protection of Centurion Way. This is great news.

This means that the community can press on with a meeting for Friday 29th September 2017 at 10.00am. If anyone has any ideas for discussion, please let Ian know in advance. He will put together a short Agenda to provide a framework for your thoughts. He is looking forward to seeing everyone on the 29th for what promises to be a really useful project and concept.

According to Justin, parking is tricky at the Depot and you are strongly advise either cycling to Stane Street or parking the car in Clay Pit Lane. Also available is the former BHS car park which is not far away or why not book your car in for an MoT and park in one of the two bays at the front? lol.

We are fortunate to be able to enjoy and benefit from the Centurion Way and it is important to preserve and improve this unique pathway.