The eastern end of Westgate seems such a perfect Georgian enclave, yet who would have thought standing in the street today, that Mount Lane has contained iconic 20th century buildings and still has an interior by Eric Gill's brother?
Powell & Moya architects
The year 2014 saw the Chichester Festival Theatre celebrate Renew, the stunning refurbishment of its iconic building designed by London-based architects Philip Powell (1921 to 2003) and Hidalgo Moya (1922- 1994).
Few people know however that the theatre was not their first commission in Chichester. This lies behind the Old Surgery, a Georgian house at no 15 Westgate.
This is an extension to an outhouse, converted to form a one-bedroom flat, designed and built for Canon Frith, a friend of Philip Powell's father, to house his unmarried daughter Barbara. It can, albeit with some difficulty, be seen over the garden wall from the back of the Marriot Lodge care home complex or visited by permission of the Secretary of the Residents' Association who is now the owner. In those days the big house was known as The Frithery.
Shortly after this commission, built in the context of very severe restrictions on private residential development floorspace after the Second World War, Powell & Moya then designed two minimum impact flat-roofed bungalows on Mount Lane. These were built to the right-hand side of the lane, looking southwards, almost opposite St Bartholomew's church.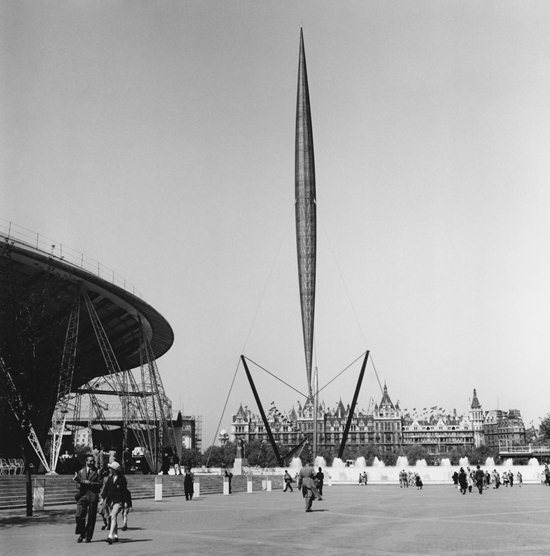 The Powell & Moya practice went on to win the competition to design 'the vertical feature' –  later named the Skylon following a public competition for its name – at the 1951 Festival of Britain held in London. Subsequent Powell & Moya commissions included public and private housing, academic buildings and a range of NHS hospitals across England.
The lost 20th century bungalows of Mount Lane
For most people living in Chichester these bungalows were probably not known to exist, having been long forgotten or were, if known at all, only ever of passing interest. The roofs of the bungalows exactly matched the height of the retaining wall and the site was further screened from Mount Lane by shrubbery. There is no point in looking out for them now, however, as they no longer exist. Number two, the furthest away from Mount Lane, was the first to be demolished in 1996, and 16 dwellings were erected there instead. Number one was then demolished and the site redeveloped for four more dwellings in 2011-12.
The 20th Century Society was instrumental in bringing both properties to local attention in 2008. In March 2010 the society emailed Chichester District Council to express strong reservations about future plans for the site: "It is the opinion of the society that these houses are nationally significant examples of post-war domestic architecture… the loss of the first [number 2 Mount Lane] was regrettable; the loss of the second would be tragic". Ian Nairn in the Sussex Pevsner offers an earlier complementary perspective: "Simple roughcast walls, cheap but not mean: the rather unpromising recipe, which has produced some awfully crude buildings masquerading as modern architecture, is handled here carefully and sensitively."
Chichester City Council's Planning and Conservation Committee discussed the future of 1 Mount Lane at its meeting on 17th Fairbury 2010 and concluded that the bungalow at 1 Mount Lane should be saved from demolition and refurbished. A similar discussion had earlier taken place at the February meeting of the Chichester Conservation Area Advisory Committee. On 31st March 2010 however, planning permission was granted for the demolition of the by now semi-derelict bungalow at 1 Mount Lane and its replacement with a terrace form three-bedroomed houses.
The People
For the non-architectural historian, the more interesting fact about these commissions is perhaps not related to their design but to the people for whom they were built.
Philip Powell's father, Arnold, was, at the time of Philip's birth, the headmaster of Bedford Modern School. A year later he was appointed headmaster of Epsom College. The young family moved to Epsom, and both Philip and his older brother Michael had their own schooling there. Later again Arnold Powell took holy orders and retired at the age of 57 in 1939 to take up a pastoral role as the incumbent of the West Sussex parishes of Graffham and Lavington. Arnold Powell obviously came to the attention of the bishop, for he was appointed a canon of Chichester Cathedral in 1947. His youngest son meanwhile had abandoned his Cambridge University scholarship and had enrolled at the Architectural Association just like his older brother Michael. He was able to continue with his studies, whilst being a conscientious objector, during the Second World War.
Hidalgo Moya had been brought to the UK as a one-year-old, from California by his parents. As a young adult he turned down a career in engineering and chose architecture instead, meeting his future business partner at the Architectural Association. Kenneth Powell, who is unrelated to Philip Powell, reports in his 2009 book (page 4) that Phillip and Hidalgo worked well together despite very different temperaments: Philip was methodical and fond of detail whereas Hidalgo was intuitive and bohemian in manner.
Essentially the first fruits of this partnership was their work in Chichester. Their second commission in the city came about as Canon Powell was facing retirement, and needed to vacate the property provided for him whilst in the employee of the church. Naturally enough he wanted somewhere to which he and his wife could retire, and together they had become very fond of Chichester. In addition his daughter Joan had married Anthony Hogg, a naval officer, in 1940 and now needed accommodation too. Naval officers, especially one who was married and had a young child, and clergymen, were deemed to be "key workers" and therefore the restrictions on "inessential" building were waived for them. It was fortunate then that a mature landscaped site of 0.4 hectares (about an acre) and in fairly close proximity to the cathedral came up for sale and could be acquired.
Messrs Pile and Company were responsible for the construction works which were completed in 1950. In spite of the size of the overall plot, all new private houses were restricted in size at that time to a maximum 1,500 sq ft per property (465 m²). Various existing trees on the site were therefore incorporated in the landscaping. The houses cost roughly the same as the new council houses being built on the Whyke Estate elsewhere in the city and at the same time. Most of the fixtures and fittings were "off-the-shelf" items – although the polished brass plates incorporating letterbox, house number, bell, lever handle and lock were specially designed for the houses. One advantage of their austere interiors was that the owners' antique furniture fitted in easily.
Decline
A letter published in the Chichester Observer newspaper of 18th March 2010 has usefully provided some detail on the later ownership of both of the Mount Lane houses. The electoral register confirms that Canon Powell was in residence at One Mount Lane until his death in late 1963. The next resident was Canon Howard, former headmaster of Hurstpierpoint College. On his death West Sussex County Council bought the property.
This was for a reason that is not now immediately obvious. There were plans to widen Mount Lane into an arterial road and to build the Westgate roundabout into some form of gyratory road system. This would have been similar in size to that which now exists at the northern end of North Street in Chichester. As those plans developed (and fortunately did not come to fruition), the house at no 1 was initially let to two women and subsequently to a county council employee. The latter until about 2003, after which the house became and remained vacant.
Lt Commander Hogg was the first owner of number two, living there until he moved into residential care. On his death the property was bought by a Mrs Sweet, on whose behalf, after she in turn died, the property was sold for redevelopment.
The site now houses many more people than it did in those days but the very first Google satellite map of Chichester still showed them to be standing: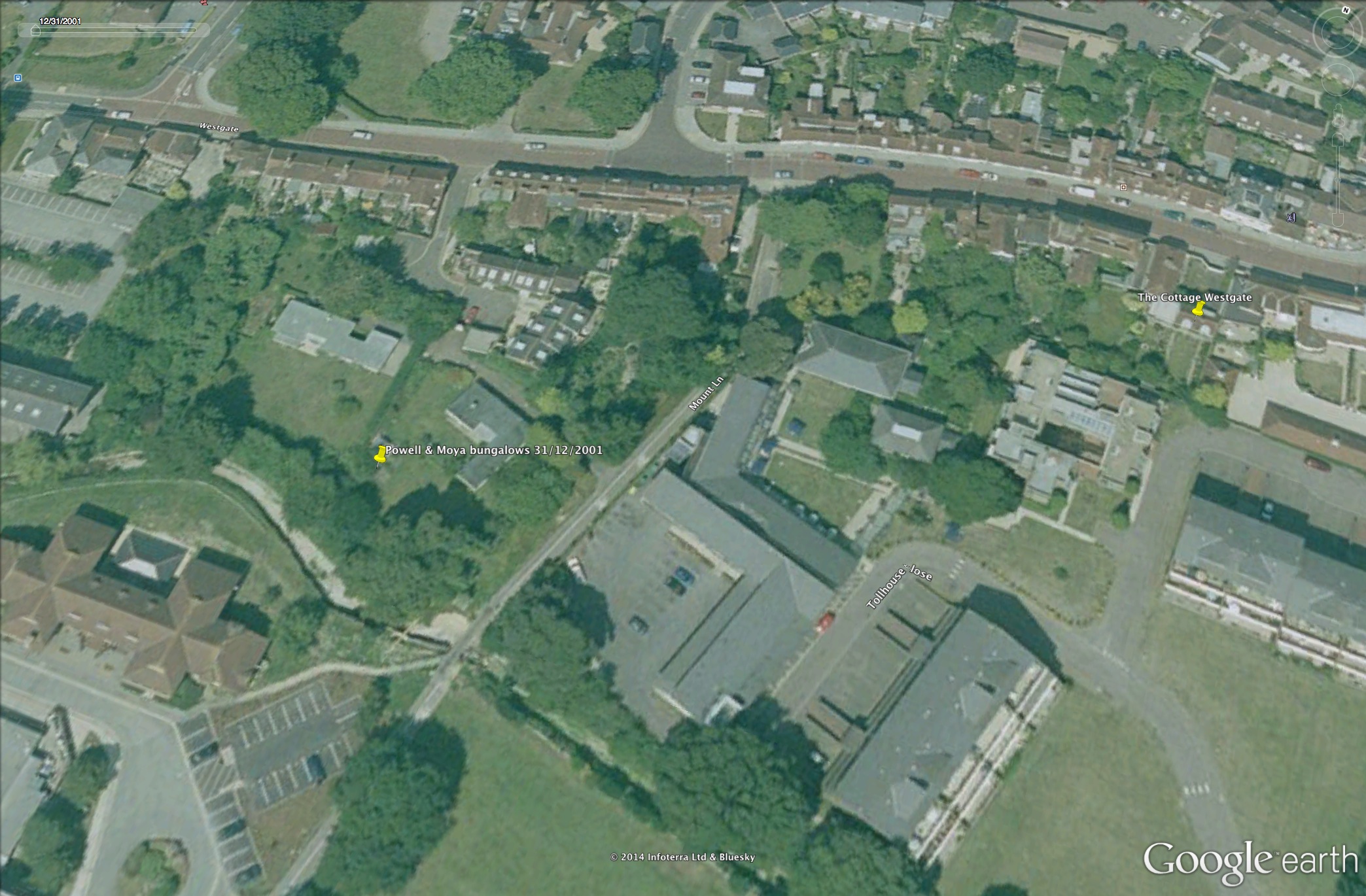 Although these influential buildings have been lost, the current site retains part of a remaining wall to old no 1 as well as some ancient espalier apple trees. Modern nos 1-4 Mount Lane have received an award and residents of these new homes have succeeded in retaining their status as part of the Chichester Conservation Area. Not that such a nomination prevented the previous dwellings from being demolished, British domestic architecture that was a good decade ahead of its time.
Permission has been granted by Greg Slay FRSA to reproduce material for this article which first appeared in the Journal of the Chichester Local History Society, no. 28, Summer 2012