For those of you interested in learning about individual properties on Westgate, we are posting details of the buildings at the conservation end of the Westgate which can be found from various sources. In these articles you can find a list of the properties protected by Historic England listing, details of the renumbering of the street as some records still record the old number, and research on the shape of the street by a resident.
To further flesh out this catalogue, we are now turning our attention to any details about individual properties that may be available. We start with number 3 Westgate, in the Georgian Priory complex at the top of the street.
The street number
As usual there is always some confusion about street numbers on Westgate and the Historic England entry reflects this (see below). We do know that after the Second World War the street numbers were altered so that even numbers were on the north side and odd numbers the south side, contrary to Georgian numbering practice. At this point No 3 became no 7. However, with the conversion to the Georgian Priory, the houses in that row were renumbered again and no 7 became no 3 again. So we know that historical no 3 is today's no 3.
The official listing entry
The Historic England entry for this property describes it thus:
WESTGATE (South Side), Georgian Priory and No. 5 Westgate, and Nos. 2 and 3 The Courtyard 
List Entry Summary – This building is listed under the Planning (Listed Buildings and Conservation Areas) Act 1990 as amended for its special architectural or historic interest.
Name: Georgian Priory and No. 5 Westgate, and Nos. 2 and 3 The Courtyard
List entry Number: 1354368
Location 2 AND 3, THE COURTYARD; 5, WESTGATE; GEORGIAN PRIORY, 3, WESTGATE
Grade: II
Date first listed: 05-Jul-1950
UID: 300223. Location: National Grid Reference SU 85667 04844
This list entry was subject to a Minor Amendment on 14/04/2014 (Formerly listed as No. 7 (Marriot House, Chichester Theological College); Previously listed as No. 3)
C18. 2 storeys. 5 windows. Tiled hipped roof with lead ridges. Cornice with modillions. Red brick. Centre portion containing 1 window projects slightly and has a pediment over it with a circular ornament in the tympanum. Sash windows with flat arches in reveals; rubbed brick voussoirs; all glazing bars intact. Doorway with Doric columns and pediment; door in reveals; semi- bars intact. Doorway tracery and door with 6 panels. Red brick extension to west. 2 storeys. 3 windows. Tiled roof with lead ridges; continuous frontage but slightly lower 3 windows, Small modillion eaves cornice. Sash windows in reveals; glazing bars intact; slightly segmental arches above; flat arches below.
Alan Green's review
The following extract is from The Building of Georgian Chichester by local historian Alan Green (Phillimore 2007) and is here reproduced with his permission. This should be read in conjunction with the above articles to get a complete view of this property.
The south side is of a totally different character from the north, the 17th-century houses being largely replaced with Georgian new build. Examination of Gardner's 1769 plan show little in common with what exists today, but there has always been a continuous – albeit uneven – terrace from St Bartholomew's churchyard to the west gate. […]
The most impressive building on this side is No. 3, which housed the Theological College from 1919 to 1994. This fine five-bay two-storey house was also a Dean and Chapter property which, along with its coach house to the east, was rebuilt in 1780 and let to Richard Diggens. Built of red brick it has a platform roof, the faces being tiled and the top of rolled lead; the centre three bays project and are topped by a pediment. It's door-case displays the 'Temple of the Winds' capitals we have encountered elsewhere in Chichester on 1780s houses.

By 1825 the Dean and Chapter had obviously sold on the freehold for the house features in a case in Chancery brought by the creditors of the late George Francis Lyon. It was sold by auction on 29 September that year, and the sale particulars describe a very fine house indeed whose accommodation included five 'superior' and four 'inferior' bedrooms, the former being 'very neatly fitted-up', along with four acres of pleasure grounds, gardens and meadows. The house, in common with most this side, did have a basement which in this case included wine, beer and coal cellars.
History of the Tyacke Family
The Tyacke family had a long association with the big house at no 3 Westgate, from 1858 to 1933. We are grateful to Dr Richard Brownfield for making available his researches on these residents of no 3 to enable us to write the second half of this history.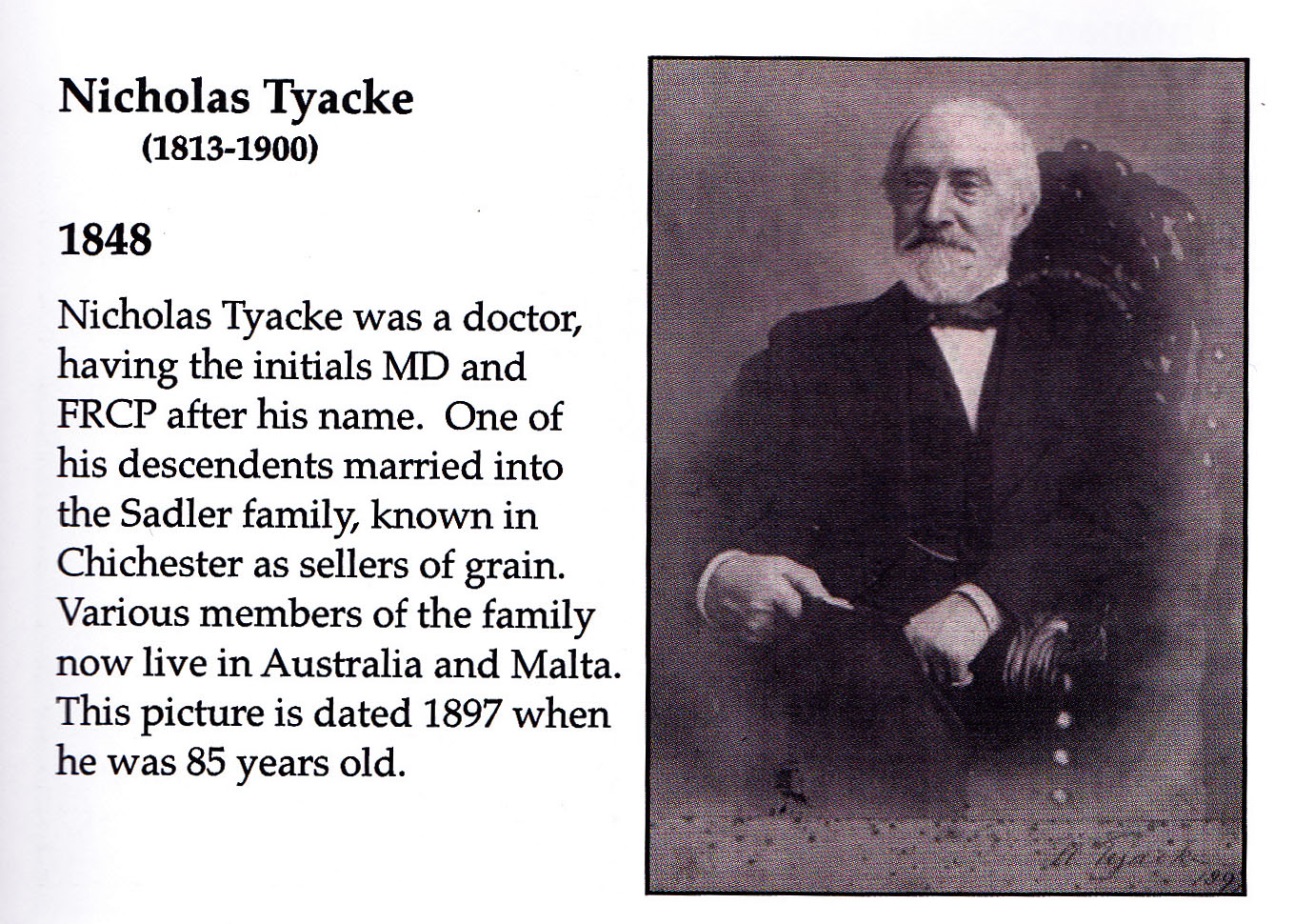 Nicholas Tyacke was a doctor born in 1813 at Godolphin in Cornwall. His father was the tenant of a tin mine employing 400 people. He qualified MD in Edinburgh and was a Fellow of the Royal College of Physicians in London. He married Frances Ann Freeland at St Martins in the Fields Church in London on June 26, 1844. In 1851 he was recorded in the census as Nicholas Tyacke physician, aged 38, living with his wife Frances Ann 33, in North Street, Chichester.
On 28th May 1858 he signed a 21 year lease with the Ecclesiastical Commissioners for 3 Westgate at a charge of £18 pa. He was required to keep the property repaired and to take out fire insurance.(1) In addition the document refers to:
Quarterly Rent
Two cottages , store and tool house and yard 5d
Shed and Yard 14d
Coach House and Yard 3d
Gardens 36d
Sadly, his wife Frances Ann died, probably at the birth of their eighth child Francis Yonge, who was a baby aged less than one year old at the time of the census in 1861. His unmarried 38 year old sister Emily was also present, possibly moved in to help run the house, as was a 16 year old niece Josephine, presumably Emily's daughter. Seven of his children were still at home, although Georgiana was away, and there were 5 servants to look after this large household.
Nicholas continued to live at no 3 Westgate, and was remarried in June 1863 in Kensington, London, to 46 year old Elizabeth Buckton. Living with them in 1871 were his children Georgiana, Fanny, George, Edith, Francis, and 4 servants. In 1881 only Georgiana, Edith and Francis were still living with Nicholas and Elizabeth. In 1891 the two girls were still unmarried and living at home. They had been joined by their brother George Ashley who was also single and had qualified as a solicitor. Elizabeth died aged 81 in 1898. Kelly's directory in 1900 records Nicholas Tyacke as MD and JP and the house is called 'Westgate House'. Nicholas died in May that year aged 87.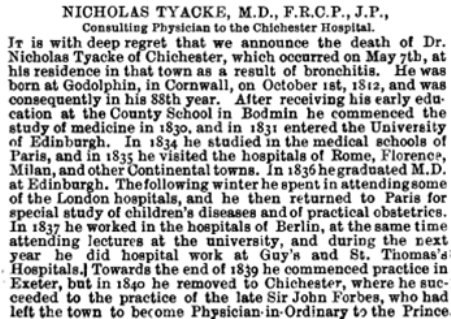 In 1901 the house was empty, but by 1908, Nicholas' son, George Ashley Tyacke the solicitor, had moved back into the family home and was living there with his young family. In 1911 he is recorded as aged 56 with his wife Alice Margaret, neé Allcard, aged 46 who had been born at Bickley in Kent and their two daughters Winifred Francis Victoria aged 15 and Alice Katherine Patricia aged 11, both of whom had been born in Chichester. They had also had two boys Edward Humphry born in 1897 and Ashley John born in 1898 who were not present on the day of the census and were presumably away at boarding school.
It is here that this part of the story joins up with the work we have done to identify the dead on the Westgate Memorial on St Bartholomew's Church. Lieutenant E H Tyacke, George Ashley's son, was killed in France at the age of 21 and is named on this monument. George Ashley was still living at no 3 Westgate when he died in 1933, by which time the family had been associated with the house for some 75 years. (This somewhat contradicts Alan Green's assertion that the Theological College was housed in this house from 1919, so more research is required.)
Sources
1. WSRO Cap II/4/11
2. Obituary BMJ May 19 1900