This article appears as a complement to the one published earlier this year
From Brewing to Business Services
The Westgate Brewery (now home to Mercers, a pensions firm) was founded in 1751 probably by John Dearling and from 1793, taken on by William and Edward Humphrey. The brewery's association with the Henty family seems to date from 1827. Henty's was an old-established firm and it can be traced back on paper at least to 1855 when George Henty already owned about a hundred properties in West Sussex and Hampshire.
In 1861, George, who had been mayor of Chichester and was very influential, discovered that the proposed line of the Chichester to Midhurst railway would pass directly through the garden of his Chichester home and he withdrew his support for the railway until the plans were altered!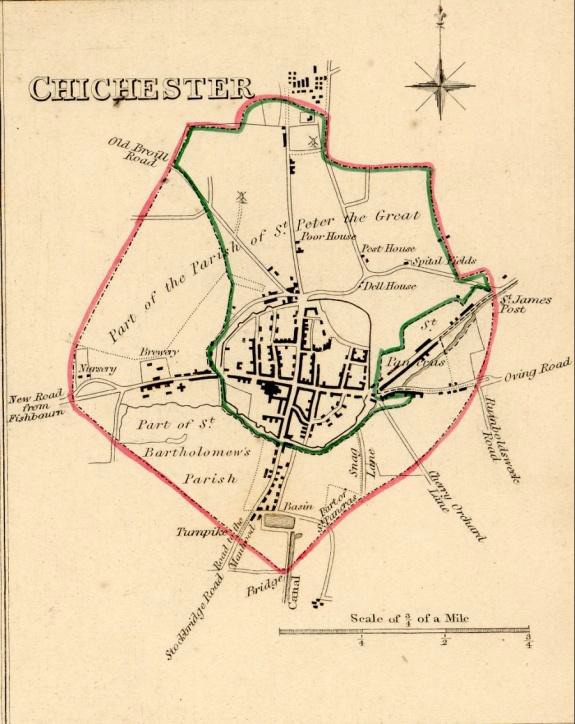 Fig 1 Westgate and the Brewery within the C18th City boundary
Beer-making requires a lot of water and there are records of 3 wells on the site, one of around 200ft deep with the resting water level around 20ft below ground, lowering 6ft when pumping at a rate of 3,000 gallons per hour which was abandoned in 1940 "owing to cloudiness".
Early purchases included the Bognor Brewery business of John Butt in 1879 (with three houses), the Spain Brewery business at Petersfield, Hants, of Edwin Albery in 1881 (with four houses), and the twenty-six houses of George Gatehouse of Chichester in 1889.
George Henty and Sons Ltd was incorporated in 1893.
Henty & Constable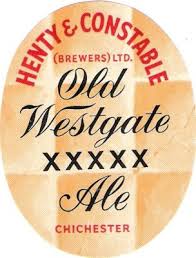 In 1921, following the death of Colonel Percy Henty, the firm of G S Constable Ltd merged with Henty's Westgate Brewery to form the company Henty & Constable. G S Constable and Sons Ltd had been incorporated since 1904, but were trading at the Anchor Brewery, Littlehampton from at least the 1860s, and from the Swallow Brewery, Arundel since the 1850s.
The resultant Company was thereafter known as Henty and Constable (Brewers) Ltd, the headquarters remaining at the Westgate Brewery, Chichester.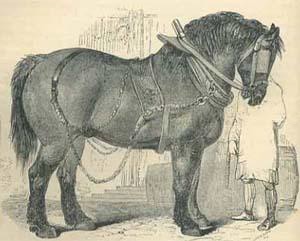 Fig 2 Memories of Westgate and Parklands residents at this time include neighbours watching the dray horses at work.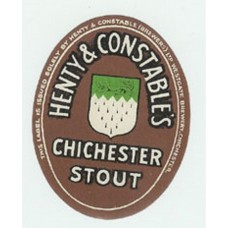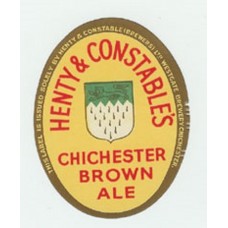 These old beer labels date from the 1940s/50s.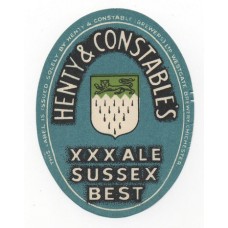 Finally, in 1929, Henty and Constable took over the Emsworth Brewery business, mainly based in the Havant and Gosport areas of Hampshire, from Messrs Kinnell and Hartley Ltd (incorporated 1903).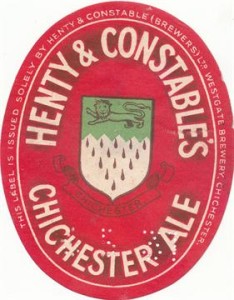 In 1955 Watneys bought and annexed to Tamplin's the Westgate Brewery business of Messrs Henty and Constable Ltd of Chichester, again a substantial concern even though about half the properties were separately sold to Friary of Guildford (later Friary Meux). The company's pubs were shared out between two other brewers, and it is reported that the brewery closed down on 5th February that year.

For those interested in pursuing this further, quite full post-incorporation records of both Henty's and Constable's are available here.
Fig 3 Collection of C20th Henty beer labels
Timeline – The Westgate Brewery, Westgate
1751 Brewery founded (by John Dearling?)
1784 – 1793 Dearling, John
1793 – 1827 Humphrey, William & Edward
1827- 30 Henty, George
1830 – 55 Henty, George & Robert
1855 – 74 Henty, George
1874 – 89 Henty, George & Son
1889 – 93 Henty, George & Sons, Cocking
1893 – 1921 Henty, George & Sons Ltd
1921 – 55 Henty & Constable (Brewers) Ltd
1955 pubs shared out between Friary Meux and Tamplins of Brighton and company closed 5th February
Fig 4 This Henty & Constable (Brewers) Ltd metal alloy tray dates from the 1950's, very close to final closure.
Article originally researched and compiled by Paula Chatfield of Parklands RA for her excellent Easter Trail series and published here by permission. As you read, further information is available if you click on the underlined text. We are always looking for more contributions like this, so if you would like to send in an article and/or photographs or video about something relevant to the residents of Westgate and its side streets, then please click let us know. Thank you.